Dresser and Night Stand Set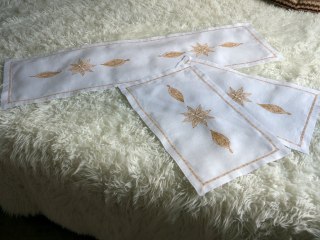 When my son Uli got his new bedroom furniture he asked me for a dresser and night stand set.
I showed him different designs and he ended up wanting the one I had made in our Pfaff club class, he liked the design and also the finish on the border.
He was very pleased with the outcome. It is a Pfaff design and I used the wing needle and a stitch in the CV machine to make the border.
I had learned a special technique for a perfectly mitered corner from Cathy, my Pfaff dealer, and I was amazed how easy and fast it is to have perfect results every time.