Laces, Laces, Laces…
I just love laces!  A while ago I was offered a class in heirloom sewing by my Pfaff dealer, as she knows about my passion.
Of course I could not resist and so I spent a very nice day. We used a lot of our different feet, and got to know many new ways to use them for lots and lots of different stitches.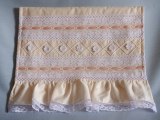 We made a lingerie bag to have a project where we could use all that we were learning. I embellished mine with little lace flowers that I already had made earlier.
All in all it was a very nice experience.
I'm embroidering laces on my machine all the time.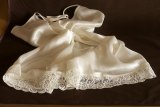 I made one lace in the endless hoop that was supposed to be done in cotton thread #30, but I had only #40 at home, so I used that one instead.
I was not overly excited by the outcome, as I found it too coarse.
So I went right back and did it again this time with poly #60 and that is very much to my liking.