Embroidered Necklines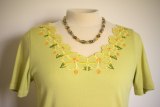 Using applique designs as cutwork to shape a neckline was a lot of work in software but the outcome was well worth it.
I used the Applique Hibiscus design from Allsorts of Embroidery to create the neckline for a T-shirt.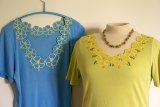 The blue one was the trial piece and I liked it, so I moved right on, to the real thing.
I think it turned out really nice.