Bringing the Fall Colors Inside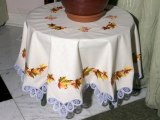 Next I made myself a beautiful fall colored tablecloth. The leave design came from Elsa Goussard and the lace was from AS Embroidery again.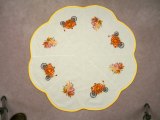 I made a centerpiece for my dining room table with the same leaves and a pumpkin carriage and my grandchildren were all delighted. The nice carriage came from ABC Embroidery (Anna Bove).